We Can Help You With Balancing Your Hormones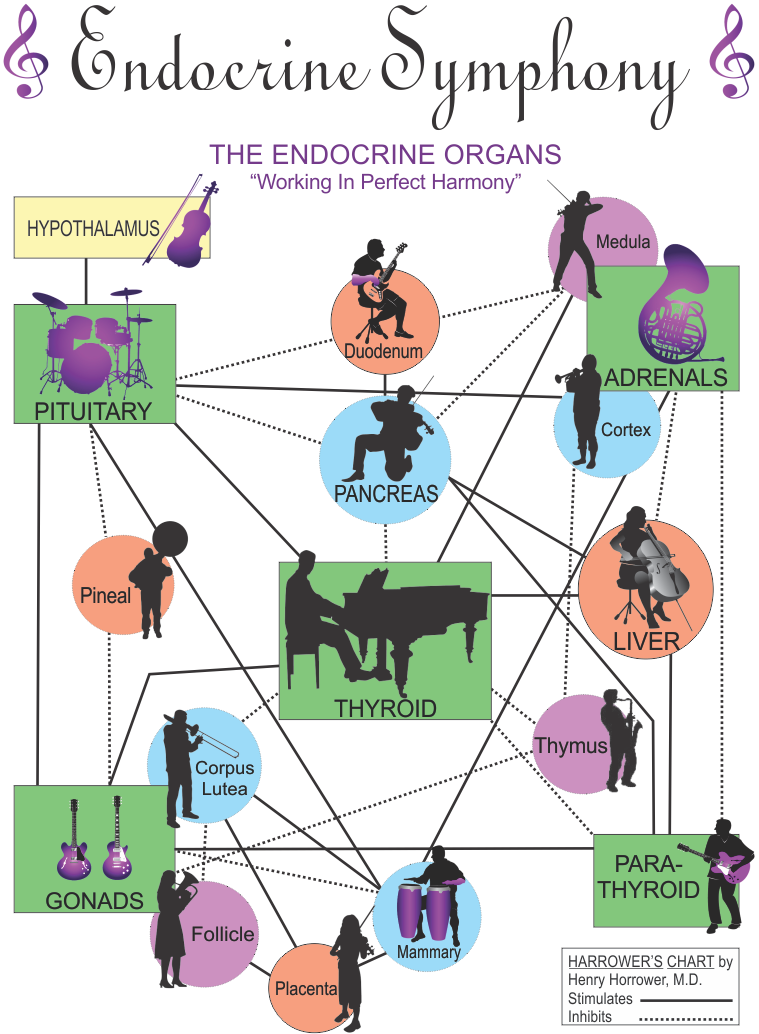 Our hormones are a complex communication system that is responsible for the direction of hundreds of chemical and functional responses in the body.  It is a beautiful symphony of masterfully perfected inter-active parts that are intended to harmonize with all the others.
To treat it as a simple, one gland approach is like expecting a professional pianist to play harmoniously with a group of students in their first month of their music lessons. It doesn't matter how well it plays, if the rest of the group doesn't harmonize well, it still will perform horribly. Likewise, an organ, such as the thyroid, if it is functioning sub-optimally, can't expect to play up to concert performance level with the others in a concert of professional musicians. 
The entire endocrine system must be treated as a whole in order to get optimal performance. So when someone comes in to get their thyroid to work better, for instance, you can be sure that we will be questioning the condition of the other organs as well.
One important aspect is to be sure that all nutritional elements, such as minerals, amino acids and fats – the essential building blocks for hormones – are present. That means addressing the digestion if it isn't up to par, handling any blood sugar issues (blood sugar is handled by the liver, adrenals and pancreas), and making sure thyroid, sex hormones and all other systems are working up to par.
There is so much we can do to help, both nutritionally and through acupuncture and other modalities. First, we will discover what systems are not working in harmony with the others.  Then support it particularly, but most importantly, support the entire symphony of glands.
Let's Solve This Puzzle Together!
At Vital Health we help people find clarity regarding the root causes of their health challenges and provide step-by-step guidance on what to do, and when to do it, in order to restore health naturally.
"Before coming to see Dr. Carling, I had been suffering for 16 years. I had severe Irritable Bowel Syndrome, Fibromyalgia Syndrome, irritable bladder, poor sleep, thyroid issues and was experiencing irritability and depression. I couldn't stand to be touched, even to breastfeed. My joints ached. I couldn't stand up for more than 5 minutes (couldn't even wash the dishes without pain). I was experiencing incredible excessive fatigue, "fibro-fog", short term memory loss, and I had gained weight as a result of the depression medications I was taking. The burden on my family was enormous. My health challenges didn't allow me to have as many children as I would have liked. I had to raise my children to deal with how things were on the bad days. We were in chaos. There was no predictability. We couldn't plan on going anywhere or doing anything because my health challenges might make it impossible. I was worried my children didn't understand. I felt very alone. I felt such guilt. I felt like there was such a wall between me and others. I felt such pressure to pretend that I was not sick. I felt like those around me were subconsciously screaming at me to "do better"! I had tried a variety of treatments, including anti-depressants, Guaifenesin treatment, tranquilizers, sleep medications, and exercise. When I exercised, it knocked me off my feet for the rest of the day. I simply couldn't function after exercising. Nothing was helping, and some of the medications were making my problems worse. It was my IBS that intensified everything and drove me into Dr. Carling's office. I was absolutely scared to death to do acupuncture – but I was desperate. I was surprised how quickly I responded with the acupuncture – for me it was painless. After my first acupuncture treatment the constant diarrhea was gone. The morning after taking Min-Tran for the first time, I woke up feeling refreshed. I learned that the acupuncture and nutrition were more powerful in combination. Now, I am able to exercise when I want without sacrificing the rest of my day. I look forward to sound sleep, and no longer wake up feeling like I was run over by a truck. I feel alert when I wake in the morning and am able to plan my mornings. Things are no longer piling up in my life. I am able to keep up with my household, my work, and then exercise at the end of the day. I am able to do threefold what I was able to do before. Dr. Carling has been a tremendous resource. She is able to understand the implications of being as sick as I was. It's not just compassion. There is a difference between empathy and sympathy. She has empathy. There was no high pressure. She was so encouraging and supportive. She knew how I was feeling and understood why I was feeling that way – it took away some of the guilt. When she says something – she knows it – it's no guesswork. She is very accurate because of her dedication to constant learning. I don't know any other practitioner who has the well rounded education in both conventional and alternative medicine that Dr. Carling has. With Dr. Carling's help I was able to take this big pool of symptoms, identify the source of each and resolve them. It was like peeling away the layers on an onion. My advice to other patients is to keep moving forward to resolve your health challenges, a layer at a time. When you are feeling discouraged, remember how long it's taken for your health to get where it is, and remember that it takes time to get well. Re-read the literature and testimonials Dr. Carling provided you with. They will re-set you and keep you encouraged. Remember that you are worth it!"