What is Functional Medicine?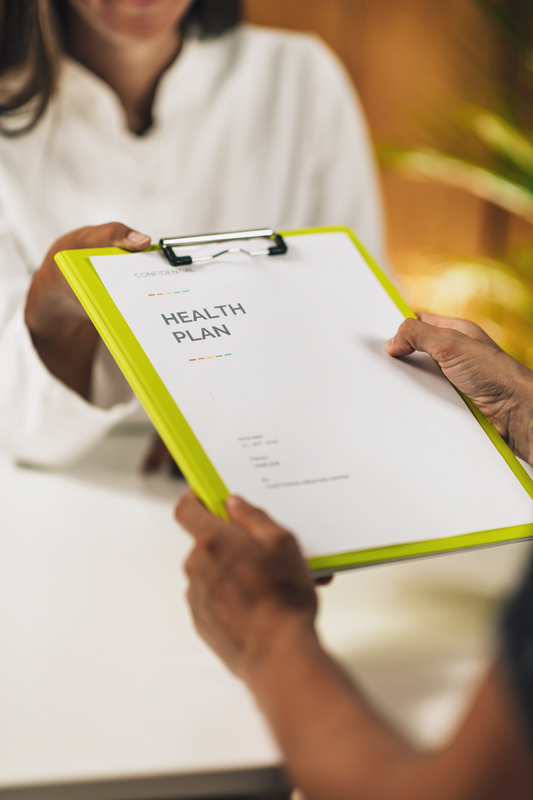 Functional medicine arose out of the desire to get to the root of illness, driven by the frustration of patients who felt that their symptoms were simply being managed and not truly understood by conventional medicine. Functional medicine has evolved rapidly in the last three decades as an individualized, patient-centered, science-based approach that empowers patients and practitioners to work together to not just address the underlying causes of disease, but also to bring the patient as close to wellness as possible. Functional medicine has been embraced by a variety of health practitioners, including MDs, nurse practitioners, nutritionists, acupuncturists, and chiropractors, who use it to fill in the missing gap between the treatment of acute and chronic illness.
Whereas conventional medicine seems to be a quick-fix, one-size-fits-all approach, functional medicine is entirely individually based. While two people may show up with symptoms of menopause, for example, in depth questioning and testing may reveal different causes for the underlying hormone imbalance. One patient may have sluggish and "overloaded" liver function preventing proper elimination of hormones, and the other may be suffering from years of stress and adrenal exhaustion causing premature and exaggerated hormone depletion. Both of these would be treated differently.
Functional medicine practitioners are a bit like health detectives. They will spend considerable time with a patient and ask many questions to figure out what is causing the patient's symptoms. They look closely at genetic, environmental, and lifestyle factors, and they use extensive questionnaires that help them to target clusters of symptoms that point to a source. Functional medicine practitioners spend time creating personalized care plans for each patient. These may include: botanical medicines or nutritional supplements; diet, exercise, and lifestyle changes; stress management recommendations; detoxification programs; and acupuncture, chiropractic, or other professional modality.
Functional medicine often includes targeted lab testing. Blood, urine, stool, saliva, and sometimes even hair samples may be taken so that nutritional status, toxin levels, hormone levels, state of gut health, and genetic susceptibilities may be identified for treatment. Functional medicine practitioners also may interpret conventional lab markers through a completely different lens; while conventional medicine has identified the ranges that are "normal versus diseased" for a marker, functional medicine has identified and targeted the optimal range for that marker.
Functional medicine practitioners believe in the body's innate ability to heal. They endeavor to introduce the minimum number of interventions in order to encourage the maximum amount of change.
Let's Solve This Puzzle Together!
At Vital Health we help people find clarity regarding the root causes of their health challenges and provide step-by-step guidance on what to do, and when to do it, in order to restore health naturally.
"I've been to several doctors before and their fixes always unbalanced my body or to give just quick fixes. I love Vital Health because they went to the root of the problem and actually made sense of things I've never been able to figure out! The receptionists are always kind and Darcy is super smart and always willing to listen and understand what's going on to better treat you. The healing process might have been longer than I expected, but it's definitely been working and I feel so much better than 3 months ago."
"I love coming in each week. Being greeted by name by all the staff and talking with a doctor that actually listens to my issues to help me find answers. I have gone to a few doctors over the years and it is very rare to find a staff so supportive and friendly. Worth every penny."
"I recommend everything this facility has to offer. I've been a patient since March and can say with 100% confidence that your health will improve with the guidance of Dr. Carling, Darcy, and the amazing staff. You will not regret your decision to come to Vital Health. Thanks to this wonderful place, I've been given the gift of learning what good health can do! Thanks to everyone at Vital Health."
"After a comprehensive evaluation, dietary guidance, whole food supplementation, and acupuncture treatments, I am happy to say almost ALL my health complaints are GONE!"
"I've been going to Dr. Holly for many years. The wealth of knowledge regarding how the body can heal itself is amazing. They are the best if you want to restore your health and vitality."